3,500-Year-Old Tomb Full of Mummies Has Been Discovered in Egypt
3,500-Year-Old Tomb Full of Mummies Has Been Discovered in Egypt

A very important discovery just took place today. A egyptian archaeologists team found a tomb dating 3,500 years ago.
3,500 years back to the dawn of ancient Egypt's New Kingdom, during a period called the 18th Dynasty, this tomb's principal inhabitant was a nobleman called Amenemhat. It is known that he spent his days simply being a jeweller and goldsmit.
Experts say that Tutankhamun and Nefertiti witnessed the life (and death) of this tomb.
Amenemhat lived between 1567BC to 1320BC says ScienceAlert and worked in the city of Luxor, at 500km south of Cairo and 7km from the Valley of the Kings.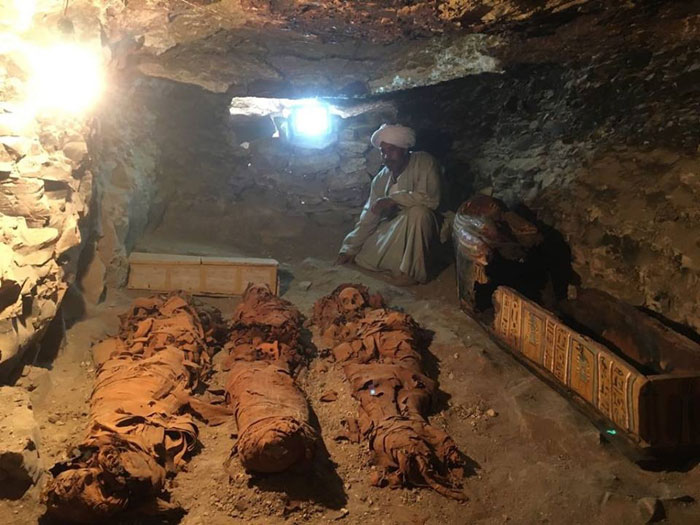 While researchers were thinking that's all, they've found a large sculpture of the goldsmith and his wife just next to a smaller statue of their son.
So far, archaeologists have found two burial chambers in the crypt, which contain mummies, sarcophagi, wooden funerary masks and statues, and pottery. -ScienceAlert
The team claims that one of the mummies is a 50-year-old woman and beside they've found the remains of her two children, showing sings of dying from diseases. Investigations continued and fifty graves more were indentified near the tomb.
"We are not sure if these mummies belong to Amenemhat and his family, but that's a good sign." lead archaeologist Mostafa Waziri explained to The New York Times.
Statistics say that until now only 30% of the Egyptian monuments are found while the rest of 70% are still buried.